World War I Memorial at the Church of St. Armand
---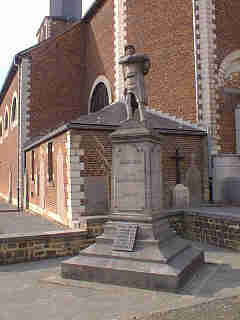 A World War I Memorial was erected at the corner of the Church of Armand. The memorial has inscriptions on three sides.
Front - Inscription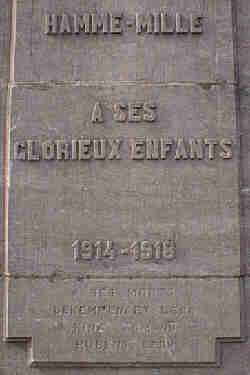 HAMME-MILLE
A SES
GLORIEUX ENFANTS
1914-1918

A SES MORTS
DEKEMPENART LEON
KINA ARMAND
RUBENS LEON



Front - Lower Plaque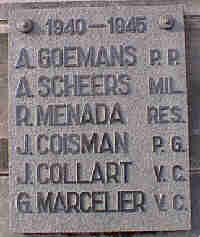 1940-1945
A. GOEMANS P.P.
A. SCHEERS MIL.
R. MENADA RES.
J. COISMAN P.G.
J. COLLART V.C.
G. MARCELIER V.C.




---

Return to Homepage



<!Animation created by Webpromotion: http://www.webpromotion.com>Please send your comments to: Michael Kaye

---
© Copyright 1998, 1999 by Michael Kaye. All rights reserved.